My clients approached me with the request to help them on their bathroom renovation. They had a tiny bathroom with no natural light which was also lacking in any real useable storage. Oh - and did I mention - the budget was a little tight?
Let's take a look at where we started.........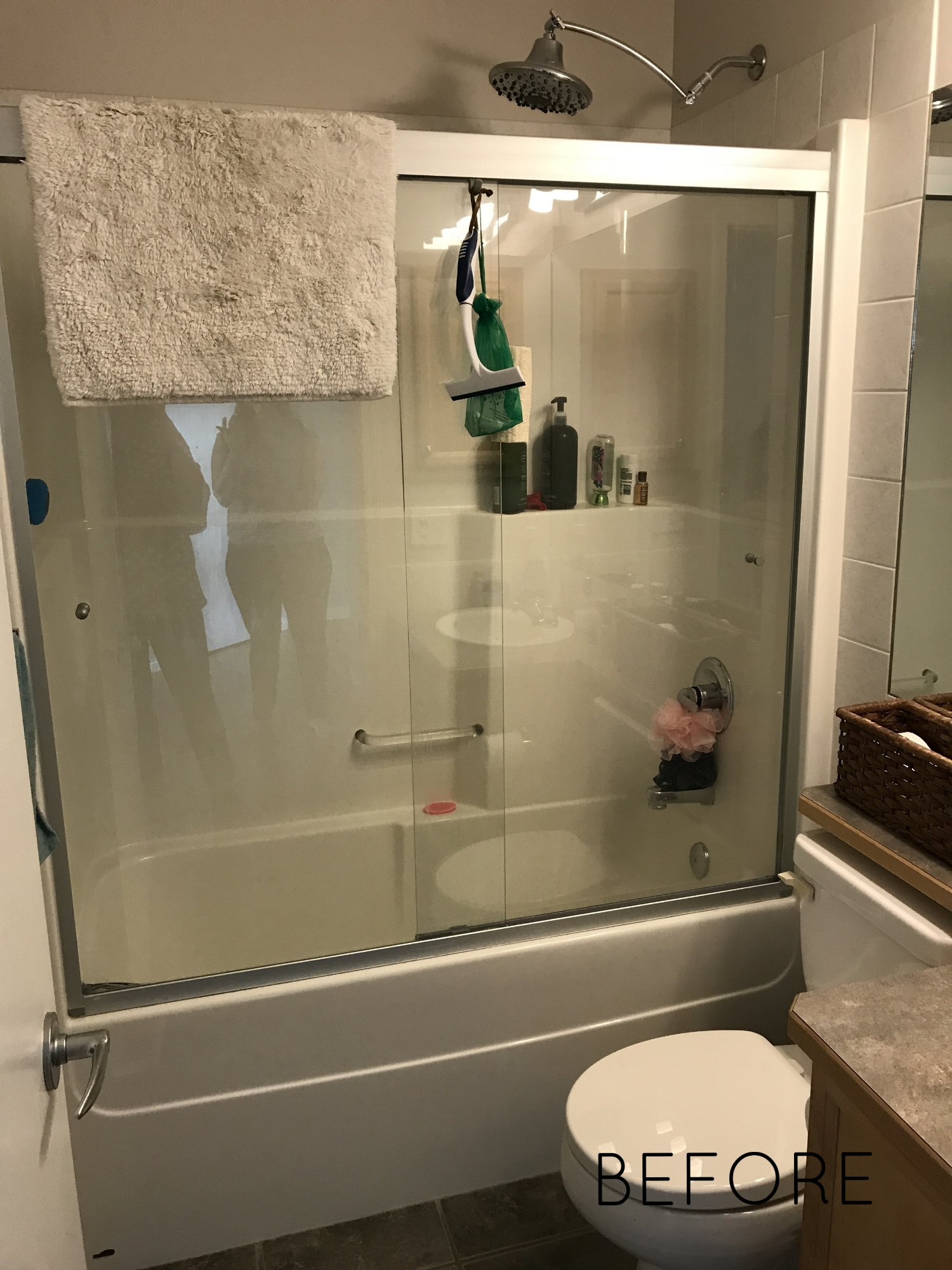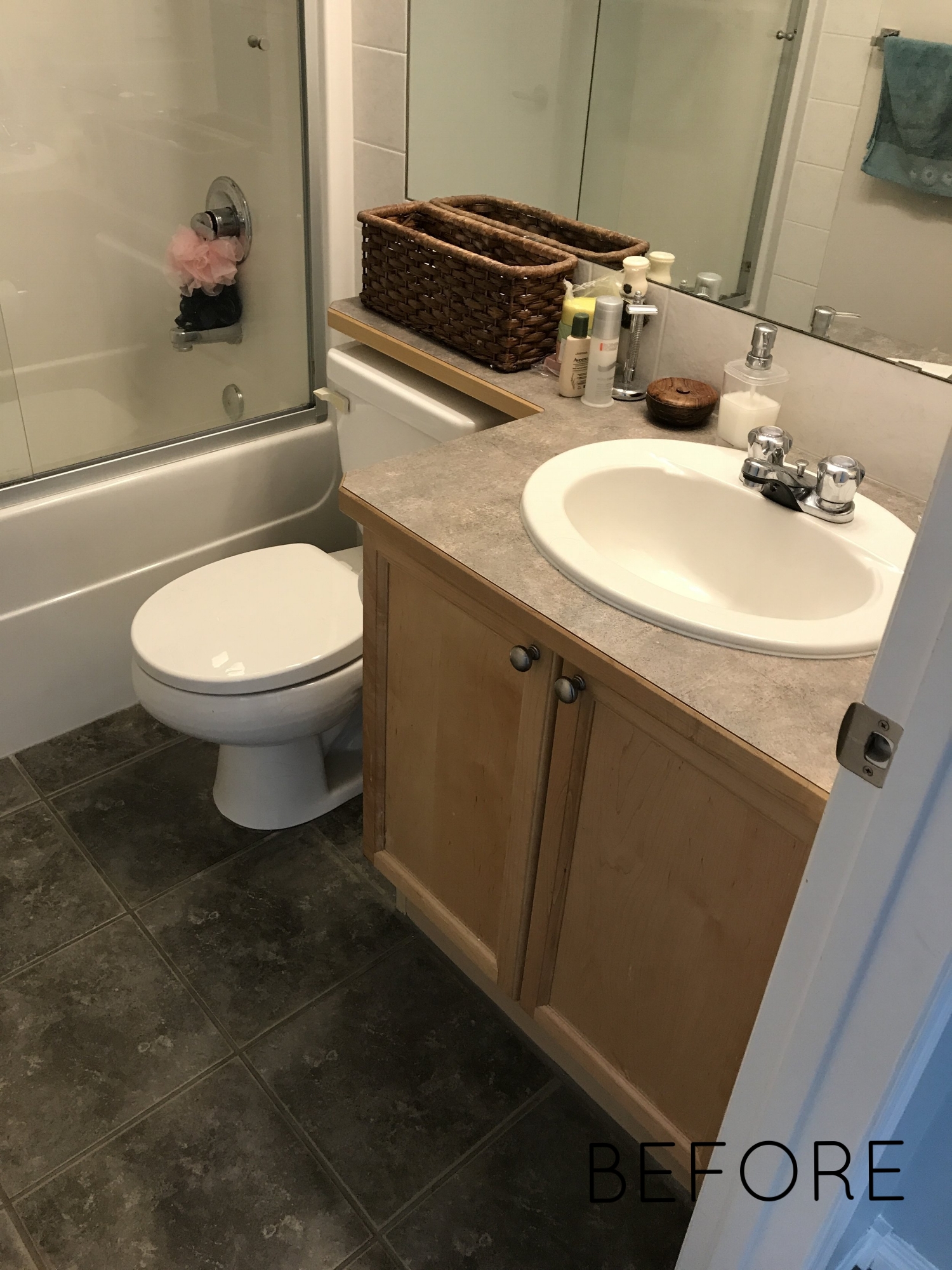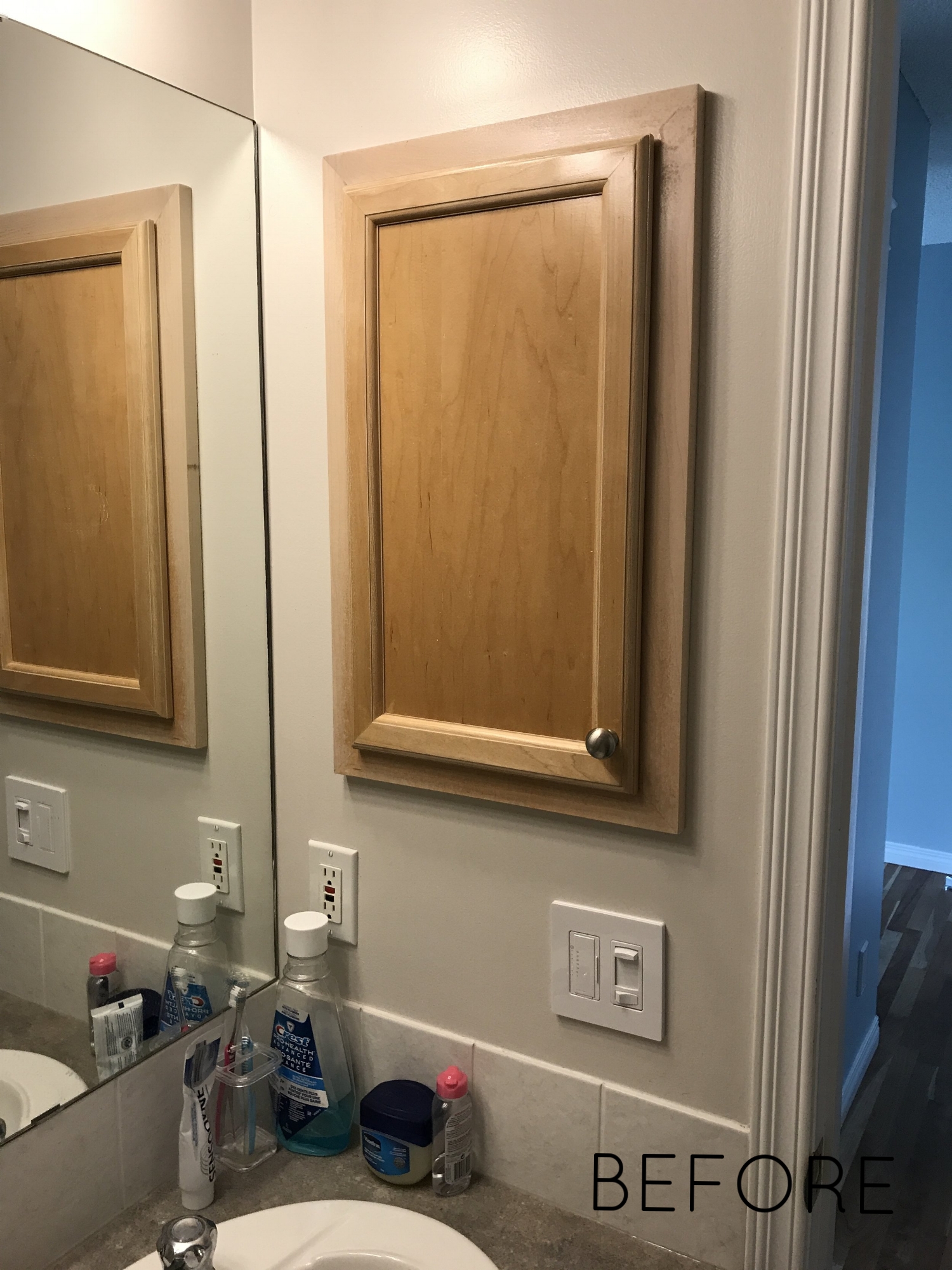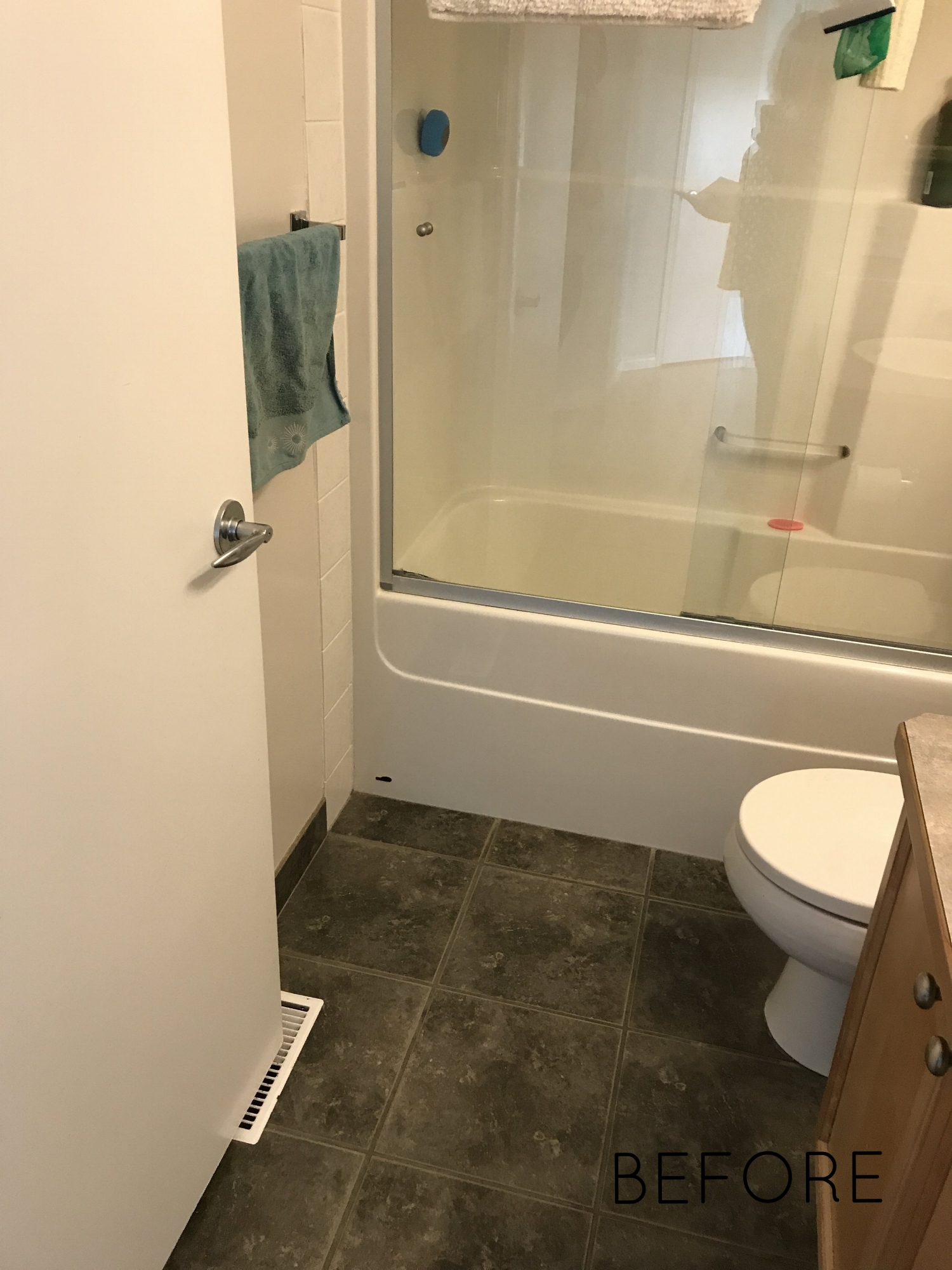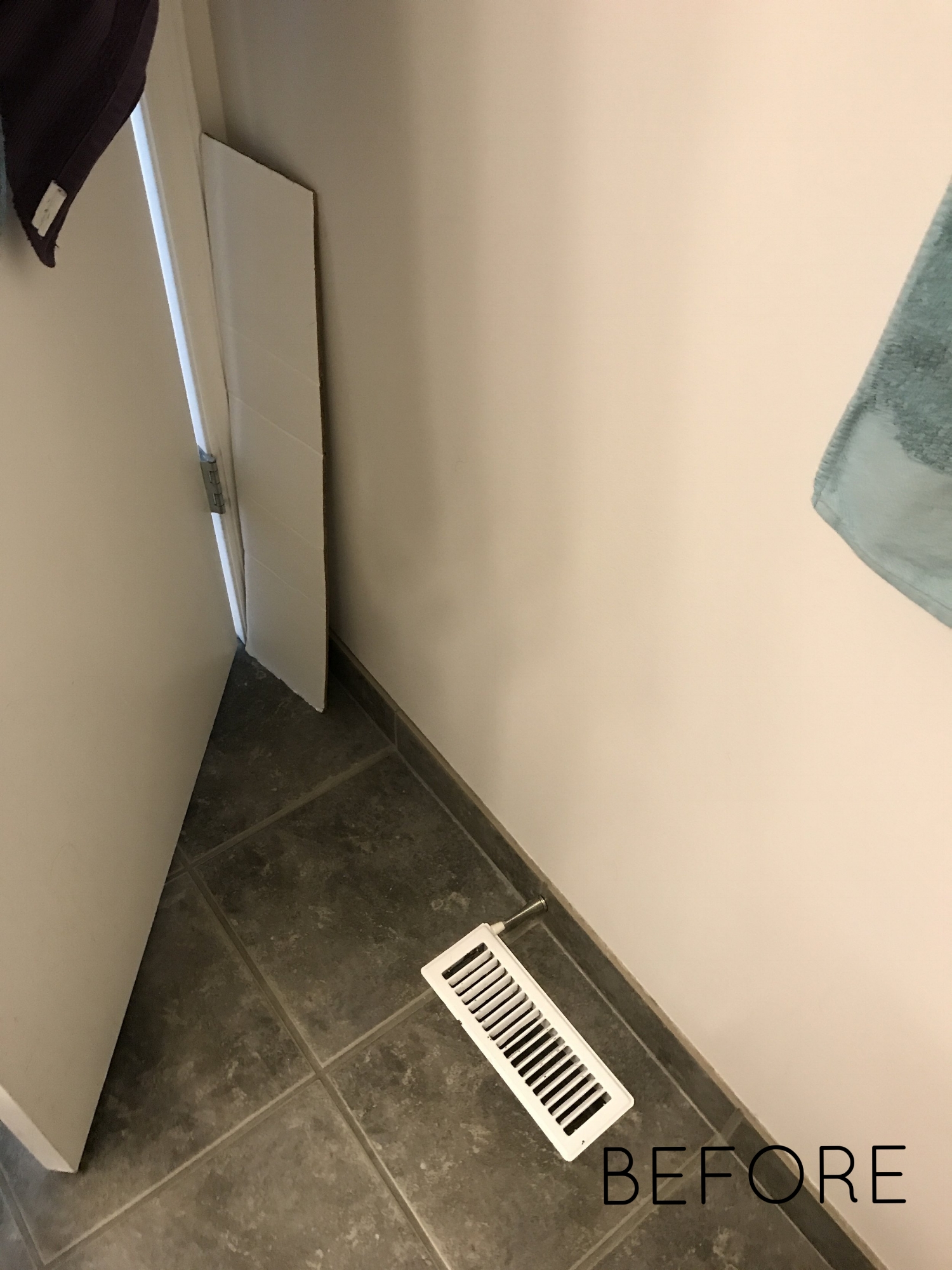 The bathroom was a little and the storage that was there was not working. With no window or access to natural light the challenge was to make it feel bright and larger than it actually was as well as gain storage.
And now the transformation!
How do you make your tiny bathroom feel larger than it actually is?
Tip #1- Choose finishes that will reflect light.
Glossy finishes work well, as well as keeping things light and bright with not too much tonal variations.
For the tub surround, I selected a large format 24"x 24" glossy tile in white with grey veining. The large format helps expand the space as well as minimizing grout lines and the gloss on the tile helps to bounce the light around. With no window, this bathroom needed all the help it could get! On the floor, I selected a white penny round tile to add some variety and paired it with a pale grey grout.
Tip #2 - Create Storage Where Possible
Nothing makes a room feel smaller than clutter!
While we couldn't make this bathroom any larger, we were able to take advantage of the space between the studs. We added 2 niches in the shower to hold all the soaps and products needed. Behind the door, we recessed 2 cabinets (one on top of the other) for an amazing mount of storage in otherwise unused space.
Tip #3 - Allow your vanity to "float"
An open toekick will extend your line of sight and make the room feel larger.
Did I mention the tight budget? Well, we didn't have room for a custom made vanity so I selected this vanity from Ikea. The cabinet has legs in the front but is open below so the flooring continues under and creates the illusion of more space. With this vanity there are also drawers below the sink which is more practical than doors and the sink makes up the countertop so visually your eye isn't broken up by different materials and clean up is a breeze.
Tip #4 - Keep your fixtures simple
Extra fuss and details just add to the room's clutter, keep lines simple.
The bathtub has a clean straight unadorned skirt and the toilet (my favorite) is sleek with clean lines both allow your eye to flow over the room as a whole rather than get caught up on the details. I selected a single hole faucet as well to allow for as much room on the sink as possible.
So, there it is, all shiny and bright with loads of storage! And it feels so much bigger!
Do you have a project that you need some help with? Contact me today to find out how I can help you create the home of your dreams!